EGEA help Ukraine working group – Open call for Members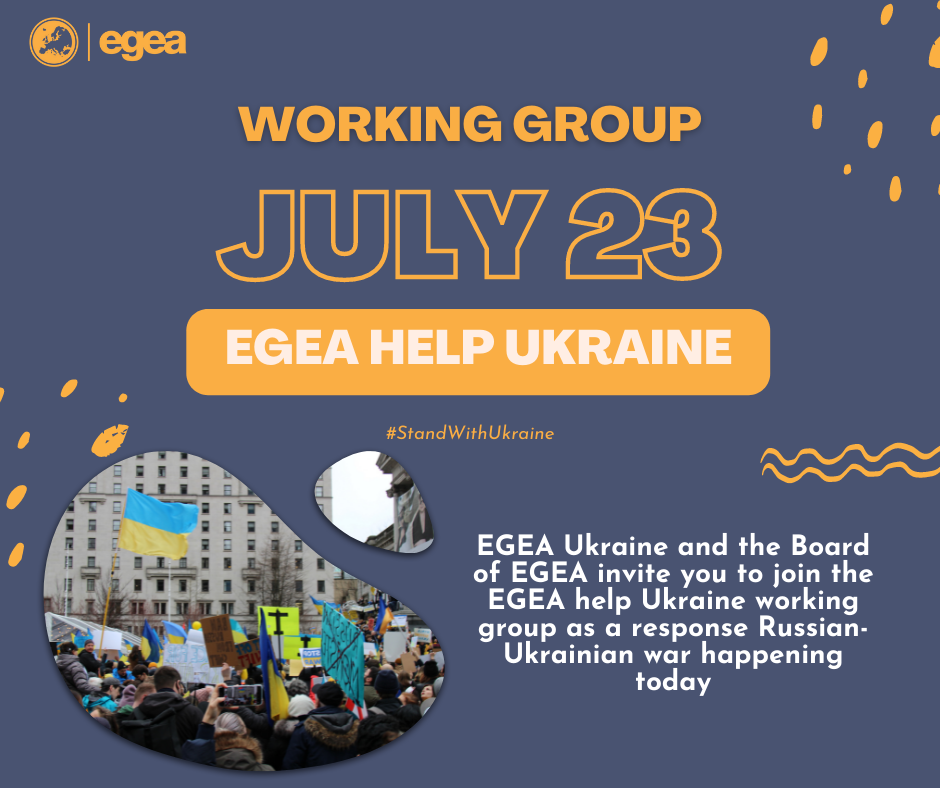 Dear EGEAns,

EGEA Ukraine and the Board of EGEA invite you to join the EGEA help Ukraine working group. On the 24th of February 2022, Russia proceeded with a full-scale military invasion of Ukraine. It was the most aggressive and shocking moment of the war that started back in 2014. Among the ones affected were our Ukrainian friends from EGEA.

We as a community condemned the invasion and tried our best to help. A lot has been accomplished but the war continues and further help is needed. After a common discussion, we decided that a more structured group with the aim to help EGEAns in Ukraine is needed. Today we invite all of you to join this working group.
The working group will focus on:
Writing and facilitating the creation of proposals for the General Assembly (related to the war in Ukraine)
Creating an inclusive and respectful environment for discussions about the war and how EGEA can help
Sharing the latest news from Ukraine
Promoting EGEA Support Fund for Ukraine
Finding and developing ways EGEAns can help our friends from Ukraine
If you are interested in joining the working group, please write us a short email to pr.event.advisor@egea.eu and kyiv@egea.eu. In the email, please include:
short introduction of you;
your motivation to join the group;
how would you like to/can you contribute to the working group;
your time availability.
The deadline for applications is the 23rd of July.
For questions don't hesitate to contact us via email or on social media:
https://www.facebook.com/stasiek.konieczny
https://www.facebook.com/KateDalakova/
https://www.facebook.com/yuuulia.kozak.96
We hope you all stay safe,
Kind regards,
Board of EGEA and EGEA Ukraine