Alumni X-Mas Event
3 December 2022
from
10:00
to
21:00
CET
Start time where you are: Your time zone couldn't be detected. Try reloading the page.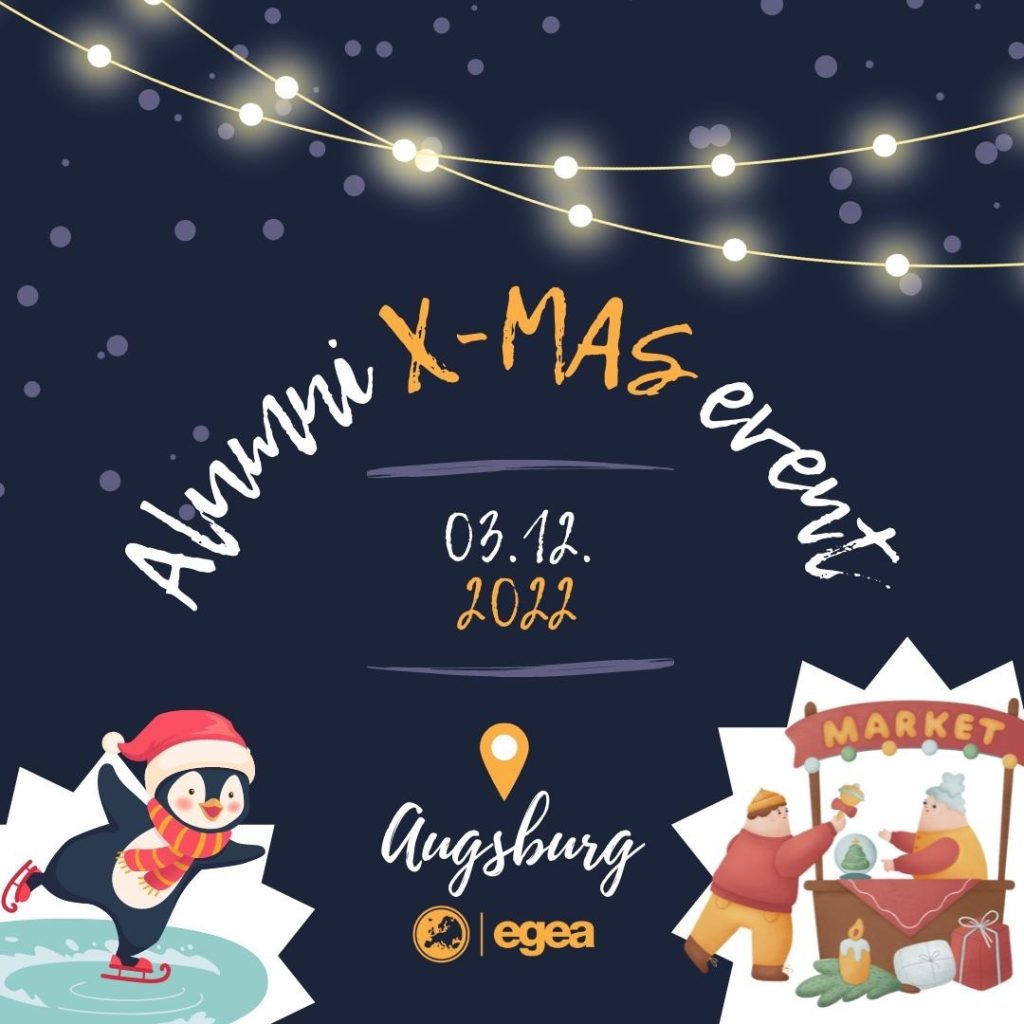 ".. Last Christmas I gave you my heart, but the very next day you gave it away…"
This song by Wham and the sale of Lebkuchen in every supermarket is a clear sign that Christmas is coming closer. And even if the rainy autumn weather doesn't quite awaken the Christmas spirit yet, EGEA Augsburg Alumni would like to invite you!
We would like to spend a wonderful, wintery day with you. On Saturday morning we will go explore some of Augsburg's sights before we reminisce nostalgically of past times, while having lunch at the campus (don't worry, we won't revive those mediocre-mensa-memories). In the afternoon we will go ice-skating together; of course, this activity is only in preparation for the evening. Because, what better reason is there to drink Glühwein, if not to warm yourself back up? 😀
Augsburg has a range of Christmas markets, which we will explore, and get a taste of. This will round off the day, before we will make ourselves on our way back home.
Price
Unlike for other EGEA events, there is no fixed price, as you will pay only for the things you consume or take part in. We have listed costs below, so you can get an estimate.
Ice-Skating Entrance: 4€
Rental of Skates: 3.5€
Day-Ticket Public Transport: ~4-7€ (depends on group size)
Lunch: 10-15€
+ Glühwein & other consumables at the Christmas markets
Accommodation
As this is a one-day event we have not booked any accommodation, but if you are arriving from further away, we will try and find a host for you in Augsburg. Let us know with your registration whether you need a host.
Registration
Use this link to sign up until the 27th November 23:59 o'clock 😊
Any Questions left?! Contact us via: christmas.augsburg@gmail.com
Related Events