Camp n roll 2022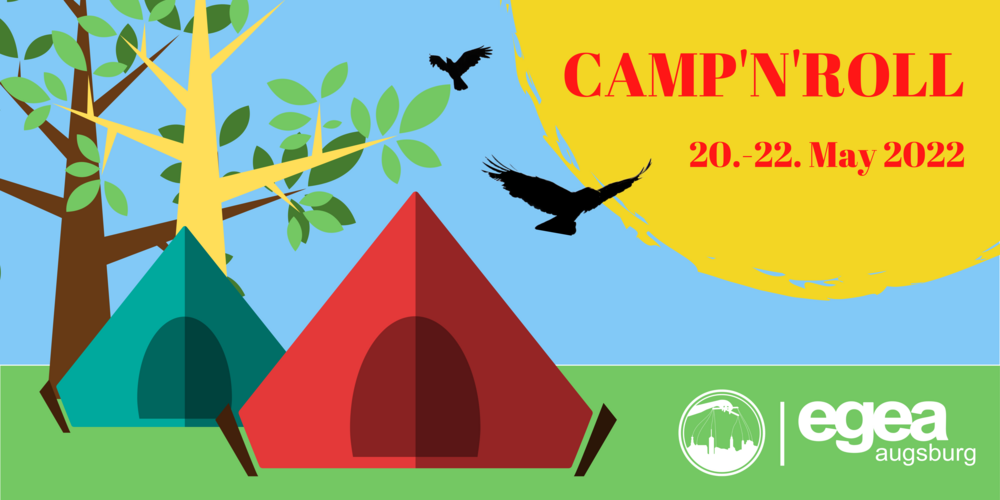 20 May 2022
from
14:00
to
22 May 2022
from
12:00
Germany/Königsdorf
Start time where you are: Your time zone couldn't be detected. Try reloading the page.
From 20th to 22nd of May 2022 EGEA Augsburg invites you to join us at Camp 'n' Roll, our summerly camping weekend in the heart of Bavaria.
After several Shack 'n' Rolls and the last Camp 'n' Roll in 2019 we think it's finally time for the 5th Volume of these legendary events. Unfortunately, our maximum capacity is extremely limited with 40 slots in total, so be fast and get your tickets now for just 33€!
Payment details will follow soon via e-mail.
Once again, we will sleep in tents under the stars, have campfires, do some sports, hiking & swimming and a lot more.
Not to forget some EGEA-classics like a BDC of course.
Program details will follow soon.
There are plans for a guided tour of our night sky at a local observatory, but due to difficulties with planning these costs are not calculated into the ticket prize. The tour will in no case cost more than 10€.
You will have to bring a tent on your own, as we can't provide any. Of course you are free to share tents with anyone you know if you wish to do so.
As EGEA Augsburg is going green, sustainability will be a major aspect in this event.
We will require every participant to fulfill German 2G standards (double vaccinated or recovered within the last 3 months) and on top of that every participant must bring a negative Covid-19 test.
More information on what "2G" etc. means at: https://www.integrationsbeauftragte.de/ib-de/staatsministerin/corona/what-do-you-currently-need-to-know-about-corona-englisch–1876282
Tickets are available from 11.03.2022 12:00 to 15.04.2022 20:00.