CANCELLED – New year's: Global edition
30 December 2021
from
14:00
to
2 January 2022
from
11:00
CET
Dear Egeans!

We are sorry to inform you that the Egea New Year: Global Edition is cancelled. For a long time we were hopeful that the Covid situation will allow us to organise this event, but unfortunately that wasn't the case.

As of now, the number of cases in Belgium are reaching record highs again, and the government has put on restrictions on social life (nightclock on bars, no parties, restrictions on event organisation, …). Therefore, there is little chance that our event would get a green light. Even without the restrictions, we realise that the rising cases would cause problems for many Egeans who travel from far away.

The orgateam of EGEA Leuven & co. wishes you best of New Year celebrations no matter where you will be! And no worries, we are thinking already of other reasons to invite you to have a Leuvely time in Belgium in the future 😉

Best wishes,
Tibor, Tijs, Ine, Melissa, Chaanah, Rhune, Lovro, Anse, Kyra & Gosia
Organised by: EGEA Leuven
Registration: until 1 December
Participation fee: 70-100 euro
Location: Bekkevoort (meetingpoint in Leuven)
Participants: max 55

COVID regulations: 3G (vaccination, proof of recovery or negative PCR-test)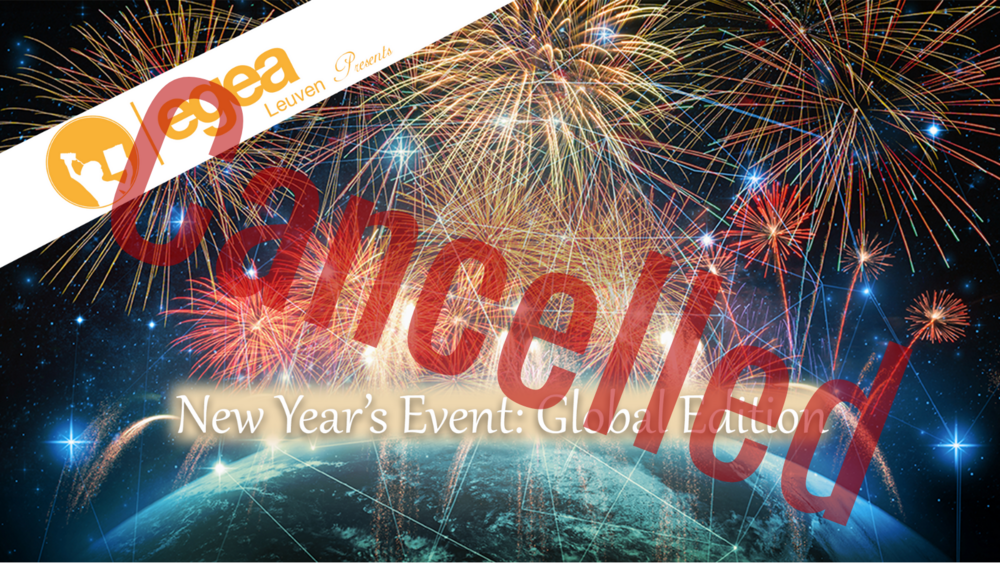 Dear Geographers!
EGEA Leuven is proud to present New Year's 2022: The Global Edition. For two days we celebrate every New Year all over the world, that means celebrating more than 30 times!!! The event will last four days in Belgium from 30 December 2021 until 2 January 2022. A wide spectrum of activities and entertainment will be provided! Get ready for the New Year of your life!
Find the latest details about the event below!
Yours,
EGEA Leuven
Event details
Registration goes from 12 November until 1 December
Participant fee will be between 70 and 100 euro's, to be announced soon
We will meet at the train station of Leuven on December 30th and go to the event location together (if you come by car or later, you can of course find the way yourselves too ;), find the adress below)
There will be max 55 participants
A Covid Safe Ticket is required (3G, meaning you are either vaccinated, tested or cured). If there are any additional rules needed as the situation changes, we will keep you informed 😀
Looking forward to celebrating with you all real soon!
LOCATION
Traveling information
Program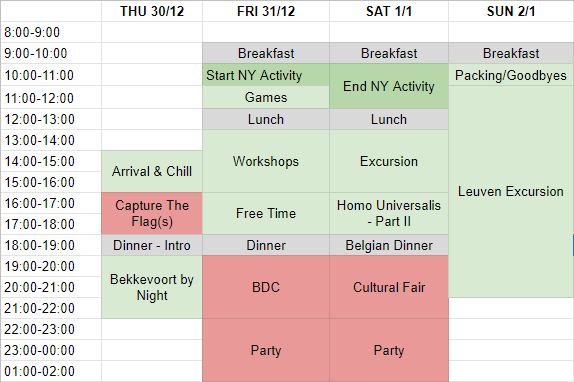 COVID REGULATIONS
Find the most recent information on travelling into Belgium. Depending on where you come from, different measures apply. Find the most recent information from foreign affairs here: https://www.info-coronavirus.be/en/travels/
RegistRations are closed:
Event is cancelled
Who's coming?
20 people are attending CANCELLED – New year's: Global edition