Training New Trainers 2024
When:14-20 February
Where: Brussels, Belgium
Places: 20
Application fee: 170 euros (consider applying for the support fund if the registration fee is a hindrance to you)
Deadline & application: registrations will open soon – you can pre-register through the button bellow to get updated about the official registration.
🚀 Are you ready to embark on a transformative journey to master the art of soft-skill training? Look no further than TNT – Training New Trainers.
🔑 TNT, or Training New Trainers, is your golden ticket to becoming an exceptional soft-skill trainer. Participants will acquire essential competences to provide engaging learning experiences and design qualitative training sessions, while navigating an interculturally diverse audience. Imagine being mentored by not one, not two, but five seasoned trainers who will guide you every step of the way.
What you will learn at TNT:
Master the art of effective communication
Harness the power of constructive feedback
Understand the intricate dynamics of group interactions
Design engaging (online) training programs
Explore innovative training methods
Dive into science-based training techniques
Grasp adult learning principles, from learning styles to personality types
Skillfully manage training activities
What is a trainer?
The role of a trainer is to activate others' potential. They develop skill sets of individuals and groups so that they can act more effectively and efficiently. Through utilizing non-formal education principles a trainer fosters the building of competency within individuals by carefully designing a learning experience targeted to the betterment of the status quo. Within a training session a trainer can take on various roles: teacher, leader, specialist, coach, facilitator, philosopher, diplomat, listening ear, or any combination of the above.
Draft programm: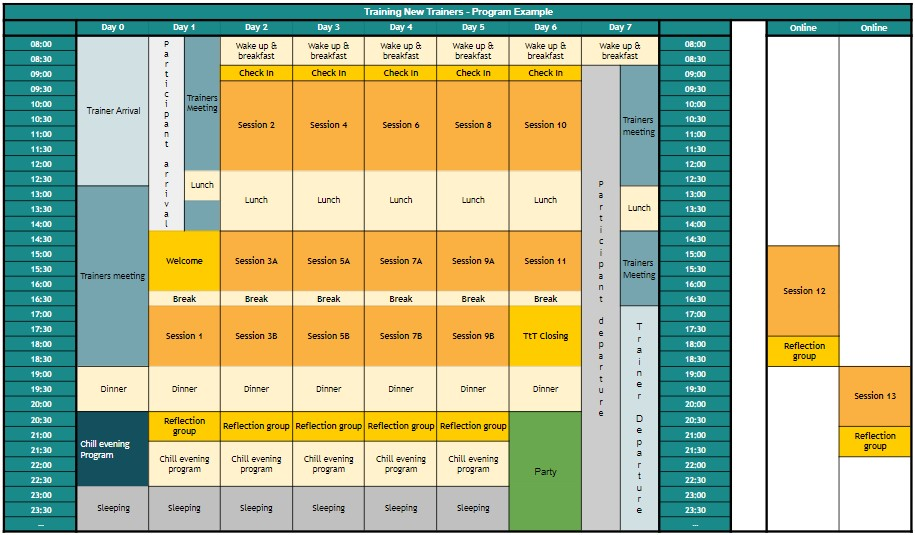 14 February 2024
from
08:00
to
17:00
Europe/Brussels
Free
consider applying for the support fund if the registration fee is a hindrance to you
Pre-registration TNT24
This is NOT the proper application yet. More information will follow, as well as the proper applicaiton.